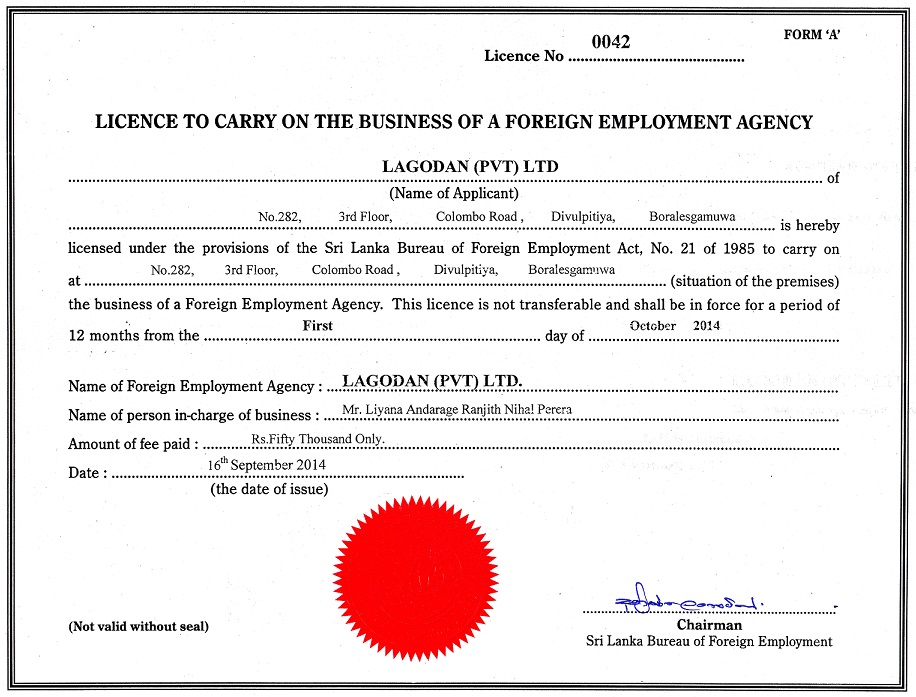 In terms of the Sri Lanka Foreign Employment Law (Sri Lanka Bureau of Foreign Employment Act No: 21 of 1985), foreign companies wishing to hire Sri Lanka personnel are required to submit the following information and documents to Lagodan (Pvt) Ltd., by courier, fax or mail.
"Lagodan is a name of repute in the sphere of foreign employment. As a Foreign Employment Agency Lagodan has developed and progressed to a leading position in the field. Not only has it led the field but has also inspired others to emulate its policies of honesty, reliability and scrupulousness".
Hon. W D J Seneviratne, MP
Minister of Labourer (1994-2000)
"Undoubtedly Lagodan (Pvt)Ltd., is one of the very few pioneering Foreign Employment Agencies in Sri Lanka, having started business operations way back in 1976, long before the establishment of the Sri Lanka Bureau of Foreign Employment. From the inception to date Lagodan has conducted its activities as a Foreign Employment Agency in an exemplary manner with a very high degree of professionalism and integrity, which are qualities seen very seldom in the foreign employment sector today".
Col. Nissanka N Wijeratne
Chairman, Sri Lanka Bureau of Foreign Employment (1994-1997)
"I as chairman of the Sri Lanka Bureau of Foreign Employment is proud to state that Lagodan is one of the Agencies that has sent the highest number of Sri Lankans for employment to over twenty four countries during the last two decades and more. What is more, Lagodan is one company which has and carrying out its recruitment activities with great commitment, integrity and honesty and displayed the highest standards of professionalism in the field of the foreign employment business in Sri Lanka".
Kapil Abeyratne
Former MP, Attorney-At-Law
Chairman, Sri Lanka Bureau of Foreign Employment